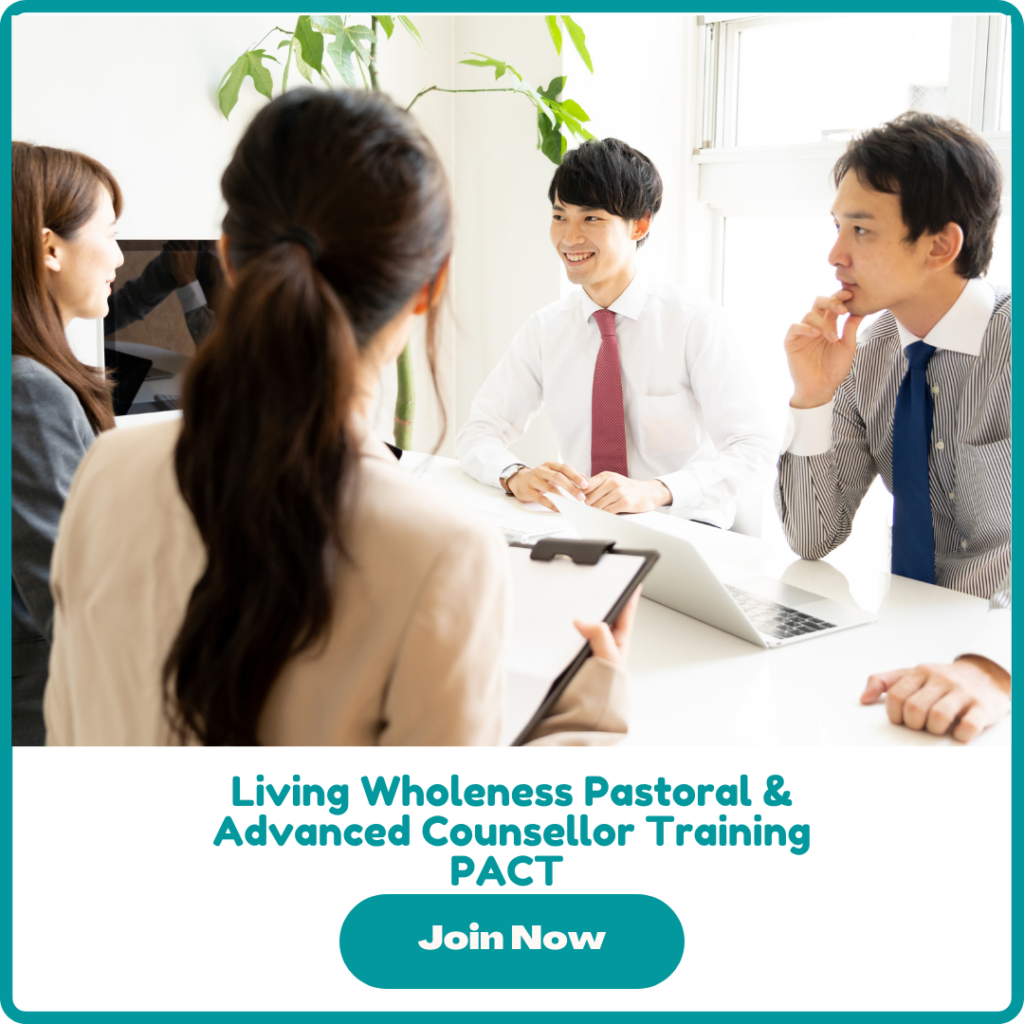 Living Wholeness Pastoral & Advanced Counsellor Training PACT
This course offers training in the Christian Wholeness Framework at an advanced lay, pastoral, or professional counsellor and trainer level (predominantly post graduate). Participants grow in their understanding and personal and professional application of the Christian Wholeness Framework (CWF). This forms the basis for a wholistic Biblically and psychologically integrative approach to professional counselling and pastoral care, with the goal of growing mature Christian disciples. They are equipped to both use integrative Christian counselling, and to train lay counsellors.
Typical participants are people with experience in lay, pastoral and professional counselling. They may be mentors, pastors, part time or full time Church workers, seminary lecturers, counselling supervisors and educators.
Participants are selected on their desire to assist, equip and empower others in the Body of Christ to meet the many issues that are faced both within the Church, and the wider community especially within the developing world. Thus, the primary purpose of this course is to train people in their capacity to counsel, supervise, and train others, empowered by using the CWF.
There is strong emphasis on the participants own personal and professional development: each are encouraged to grow in their reflective TASK:
Transformation: the journey of growing in God centred transformation – within self, with God, and others, through application of the course material first to self. There is a focus on

Reflective small groups
Wholistic prayerful application and processing
Attitudes to God, self, and others: the journey outward, through

Application of learning to work, ministry and life itself
Discipleship applications
Skills acquisition and practice of CWF based counselling, supervision and training through

Teaching and demonstration
Skills group training and practice
Group supervision facilitating skills growth
Training of trainers
Knowledge base, covering the central aspects of CWF, mental health conditions seen through a CWF lens, and an understanding of how common counselling modalities are integrated into the CWF, through

Adult learning style presentation of material
Reading and discussion groups
Integration of prior base of Biblical and psychological awareness
Group supervision facilitating knowledge application.
Classes employ an interactive adult learning style, and much tutor facilitated group work. The training is in English and participants need fluency to participate effectively. Living Wholeness practice is that participants attending in groups of 2-4, from one nation or locality, will be given preferential seats, as we value the ongoing mutual support and synergy in training that a group can offer each other during and after the course.
The course requires a total participation commitment of around 240 hours over 12 months. This does not include participant's work in counselling and training of others.
Course Content
Unit 1 commences with a 3 day online intensive, followed by reading course material with online small group discussions, and transformational group participation. This will be followed by a 10 day face to face intensive at the end of October.
Dates: Online intensive 11 th – 13 th August 2022.
10 Day face to face intensive 20th – 29 th October 2022.
Location: Chiangmai, Thailand.
Unit 2 includes self-directed study, managing a counselling case load, receiving group supervision, reading, an assignment, a monthly teaching component, and an expectation to train others in the material at a basic level.
This will be run from November 2022 through to July 2023
Unit 3 concludes the course with a 10 day face to face intensive, COVID pending, otherwise online; including further input on working with marriage and families, and training in training others in CWF, an overview of the lay counselling curriculum, and a written and skills based examination.
Dates: 11 th – 20 th August 2023 Planned for Chiangmai
Trainers The course is taught by senior LW faculty and assistants.
Certification: Please note that while this course is presented jointly by LW and with Brisbane School of Theology (BST), graduates will receive a certificate from these two organizations, but do not receive any formal qualifications apart from certification and recognition within the LW community.
Alumni: Living Wholeness takes community seriously and as such graduates are invited to join the LW community and continue to participate in ongoing relationship, group supervision, and training opportunities where appropriate. Specifically participants are trained to offer various LW courses. Graduates are also eligible to be invited to join the LW master trainer cohort which formalizes this post-graduation ongoing support and training opportunities.
Payment: Cost per participant for the whole training, including units 1, 2, 3, and materials, is USD$500. Participants may pay in full up front by July 15, 2022.
Assuming Part of Unit 1, and Unit 3 are delivered as face-to-face intensives, participants need to add the costs of accommodation and food, plus travel. Intensives are typically held at a simple three-star resort, most likely in Chiangmai Thailand (COVID not withstanding). Budget around USD$400 plus your travel for each intensive. The tuition fee is included in the overall cost.
The Chiangmai site may be varied if a more central and affordable-for-all location is found, or if COVID causes need for alteration for this. If face to face is not possible Unit 1 and 3 will still proceed online.
Where there is genuine financial need, past participants have sought assistance from their organization or church or friends/family. LW has also offered part scholarships where people can demonstrate the need of this and have also accessed broader funding sources. Living Wholeness policy is that we prefer to accept people based on their calling, capacity, and giftedness ahead of their bank balance, but at the same time there are costs that need to be covered. Please arrange a confidential discussion with us if you do have financial hardship.
Registration Details
Please register your interest in PACT by completing the application form below, and sending it to us by July 15, 2022.
Images from recent Living Wholeness trainings: